We call Smart Film  PDLC Film as Smart Glass Film, Switchable Smart Film, Privacy Glass Film, PDLC Film , Magic Glass Film , Electronic Film, Switchable Transparent Film etc ...
We offer 2 kinds of Smart PDLC Film:
1. Self-adhesive Smart PDLC FILM
2. Non-adhesive Common Smart PDLC FILM
NOTE: size: max 1.5m (widh) *3m (length) for one piece for one roll we have 1.2m *30m or 1.4m*30m or 1.5m * 30m for Self-adhesive Smart PDLC FILM, and 1.2m *30m or 1.4m*30m or 1.8m*30m forNon-adhesive Common Smart PDLC FILM .
1. Switch on, transparent; switch off, opaque, which achieves the double requirements of daylighting and privacy.
2. Safety: the fragments will be stick on the film when the glass is crushed. That glass fragments hurt people will never happen
3. Environmental protection: above 90% infrared and 98% UV can be shielded.
4. Anti-aging, anti-fade.
5. Sound insulation: 2 to 3 time of ordinary glass
6. when off state, can as rear projection film to use.
Smart LC Film(Liquid Crystal Film) consists of two PET films and one PDLC layer. While voltage is brought to the two PET films, the smart LC film will turn from opaque state to transparent.  
The working principle of smart LC  film is illustrated in below. With the  film is "off", the disordered orientation arrangement of  liquid  crystals  leads  to  the mismatch of micro  refractive  index and cause strong  light  scattering(during which  the  appearance  of  a  smart  film  is  opaque  and  in  ivory white); while proper voltage is added to  the  film, the electric field makes the liquid crystal arrange in order. The micro  refractive  index  in  a  composite material  is widely  distributed. Light  scattering  is hightly 
restrained(during which the film is in transparent state). 
Smart LC  film consist  of  two layers of  ITO film sandwiched with PDLC  layer. Through  the applied power  control, the  smart LC   film  can  quick  change  in  a   state between clear and opaque.   
The  pictures  above  are  principle  drawing  of  smart  LC  film. When  the  power  of  smart  LC  film  is   turned  off  (  "OFF"    state),    the    liquid    crystal turn into scattering position and  the  micro  reflective  index of material  is mismatch,  resulting  in  the strong scattering  effect;  this moment   
the  smart  LC film is opaque. When the power is applied to the film, the liquid 
crystal lines up and the reflective index tend to same, then the scattering is sharply depressed,  for this time the film turn opaque to clear. 
Smart film A4 SIZE SAMPLE IMAGE:
Apparent Quality: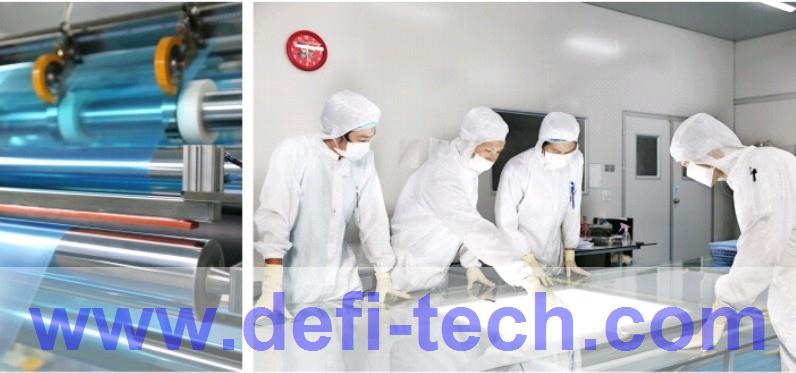 The appearance of Smart LC Film must  reach uniform color, haze and  light  transmittance. Two  ITO film layer should splice strongly without stripping; no crease, black spot or slippage on the surface of film; no visible  impurity, not  removed visible adhesive, Foreign matters, eutectic spots, scratch, etc.  Accumulated allowance should meet requirements showed in the table below. 
Remark:  
Intensive  existence:  appear  4  or more  than  4  defects,  and  their  spacing  is  less  than  200mm, which  is regarded as Intensive existence. 
When testing, the light intensity of the front and back side of smart LC film should keep between 300 and 500lux;  the  distance  from  smart  LC  film  to  the  inspector's  eyes  should  more  than  1m,  line  of  sight perpendicular to the surface of the smart LC film. 
 Optical Performance 
The working voltage of DEFI Smart LC Film is 70V(50Hz). The film become transparent by applying power  (ON  state)  and  opaque  (matte  effect)  when  power  off  (OFF  state).  Detailed  specification showed in the table below. 
   Features of DEFI Smart LC Film 
DEFI  Smart  LC  Film  adopt  unique  liquid  crystal  formula,  make  the  new  liquid  crystal  materials dhesive on  the high quality  flexible conductive  film-ITO  film. Excellent optical performance, High  on&off contrast, Low power consumption and widely application. Advantages of DEFI Smart LC film  as below:   
1. Excellent optical Performace 
When the smart film is in "off" state, the haze is over 90% while in on state, the ransmittance is over  76%. The film is with outstanding optical performance. 
2. Great Stability 
The film can keep its excellence optical performance after switching for over 80 million times. 
3. Larger Size Production Capacity 
The  maximum  width  of  the  smart  film  is  1.2m,  the  length  is  unlimited.  Customized  service  is  available. 
4. Widely Application 
DEFI smart film is flexible materials with high elastic deformation, which can be used directly on the surface  of  ordinary  glass  and  curved  glass.  It  can  be  made  into  Smart  LC  Glass  by  laminated encapsulation. 
Technical Advantages 
DEFI independently developed a set of high precision automatic production equipment for Smart LC  Film. The advanced roll-to-roll processing technique allows the large-scale continuous production of  Smart LC Film to reach 1,250mm. 
The  film  is made  of  unique  liquid  crystal  composite materials,  together with  optical-grade  flexible  conductive thin film with high-quality ITO coating. Finished film have excellent optical performance,  thermal and mechanical performances as well as great weather resistance. 
We  have  a  group  of  well-educated  and  experienced  specialists  who  devote  themselves  to  the  technology  of  smart  film.  For  this  project,  an  institute  of  Functional  Thin  Film  Materials  was  established,  which  provides  a  strong  foundation  for  improving  the  product  performance  and  new  product development. 
How it work 
As  the  figure  show below,  the Smart Glass  adopt  a manufacturing  technology  like  laminated  glass,  which  use  Smart  LC  Film  (hereinafter  referred  to  as  Smart  Film)  as  a  mid-layer.  Through  high-temperature  high  press  processing,  the  Smart  Glass  have  been  made  and  the  feature  that  transparent when power on and opaque when power off. 
Technical Features 
When  power  on,  the  film  become  transparent; when  power  off,  it  becomes  opaque; Quick  change;  Multiple  control  way:  switcher,  sound-controlled,  light-controlled,  temperature-controlled,  remote-controlled, remote network-controlled, etc. Custom services are available. 
Sound insulation, heat insulation and preservation; Environment-friendly; The smart glass can adjust  automatically  its  light  transmittance by adjusting voltage according  to  the change of  the  temperature  and light outside the window. 
Smart Film Large size installation steps images (we will supply user manual after order):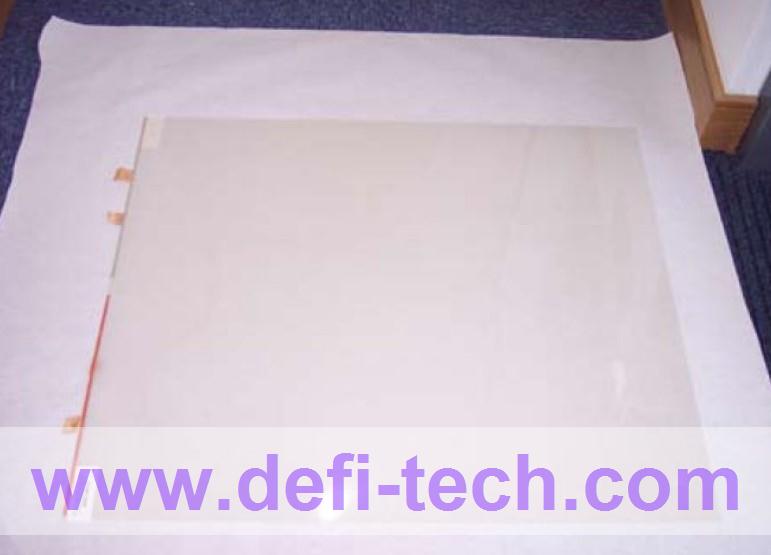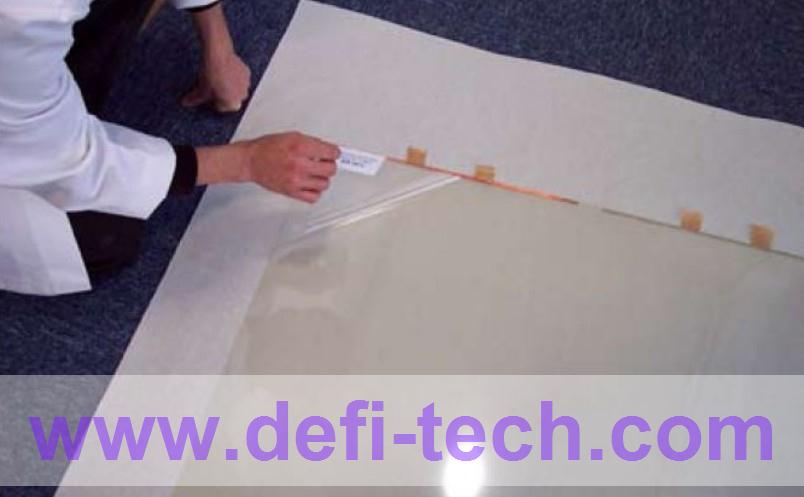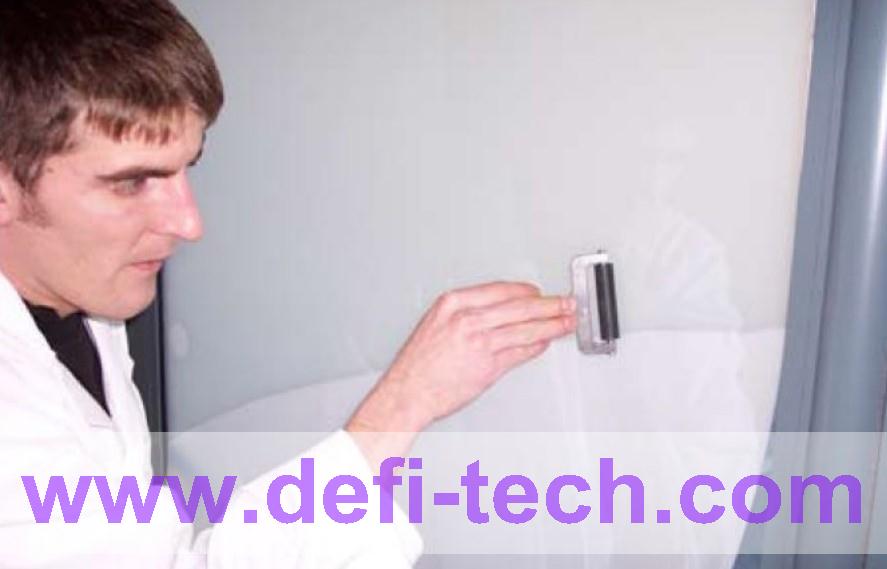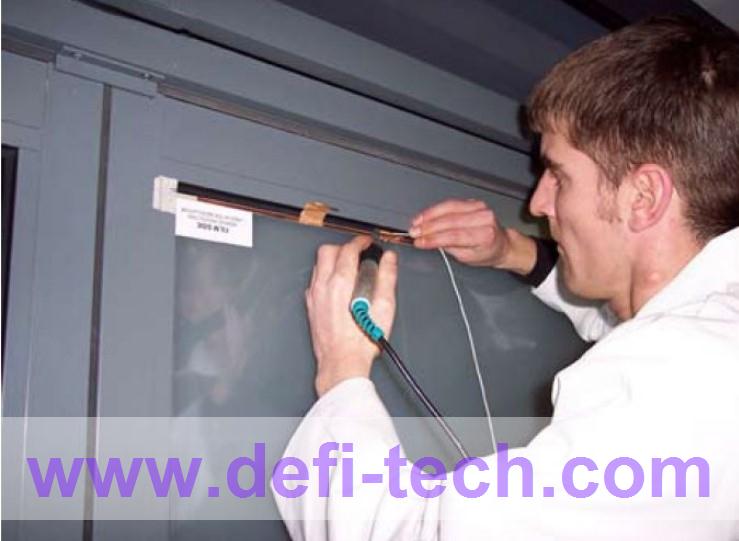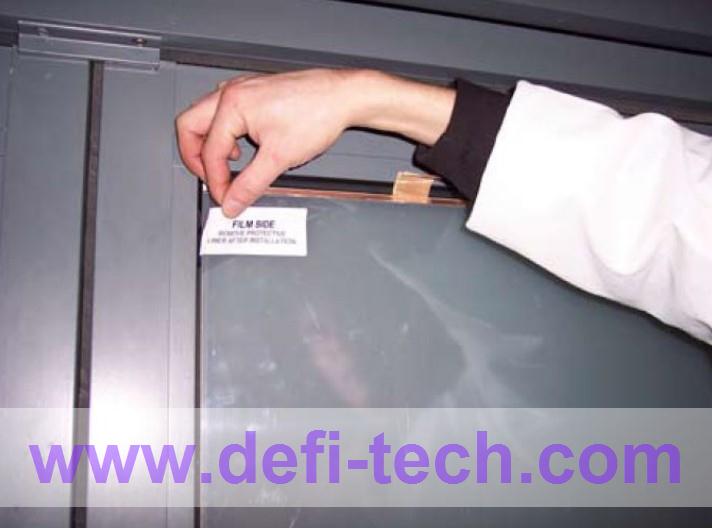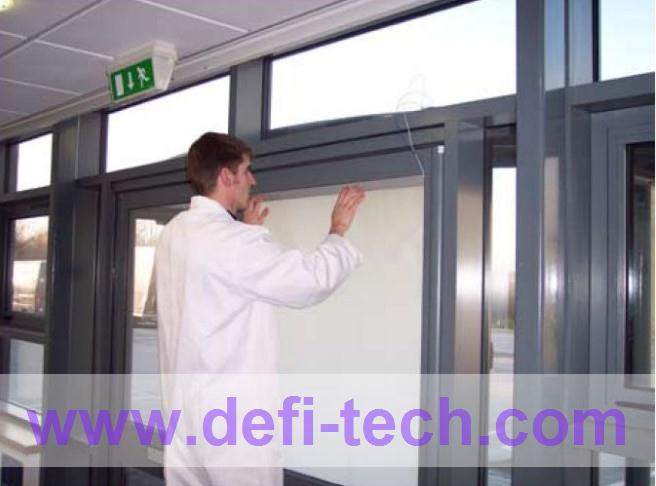 Production application presentation   
PACKAGE:
1. Optical Performance 
The smart film will be laminated by double-sides protective film when packing and shippment. Before  using the film, clients have to tear off the protective film. 
2. Packing 
According to client's requirements, the smart film will be packed by Cases Type or Rolls Type. Cases  Type means that the smart film will be packed into a big wooden case, each slice will be separated by  plain paper,  together with  foam  rubber sponge around as buttering. Rolls Type means  that  the smart  film will be rolled by a 12 inches paper tube, together with carton outside. 
3. Sign 
The product labels will be sticked outside the cartons or wooden cases for signing the product name,  models, batch number, quantity and date, etc.